Nowadays, there are online tools for pretty much everything. They are used by people in different fields and professions, and they are also liberally employed by students as well.
There are different things that students have to contend with on a daily basis, which can be made a lot easier with the help of online tools.
If you are a student and you can not figure out how and where to utilize online tools to make your studies easier, don not worry. In this post, that is what I am going to be looking at.
The importance of educational technology cannot be overemphasized as these tools have helped eliminate most of the challenges of online learning for students and teachers alike.
Role of Online Tools in Making Study Easier for Students
To help you understand the role that online tools play in making studying easier for students, I will break up our article into different parts.
Online Planning Tools Can Help Students Organize their Study Schedule
Poor scheduling and organization can become the means of many issues for students. If a schedule is not set out, students can end up procrastinating a lot of their tasks, due to which they can be ill-prepared when the time comes for submissions/exams, etc.
But by using online planning tools, students can create an organized schedule for different tasks. For example, using Todoist, a schedule could be made for essay writing in the following way: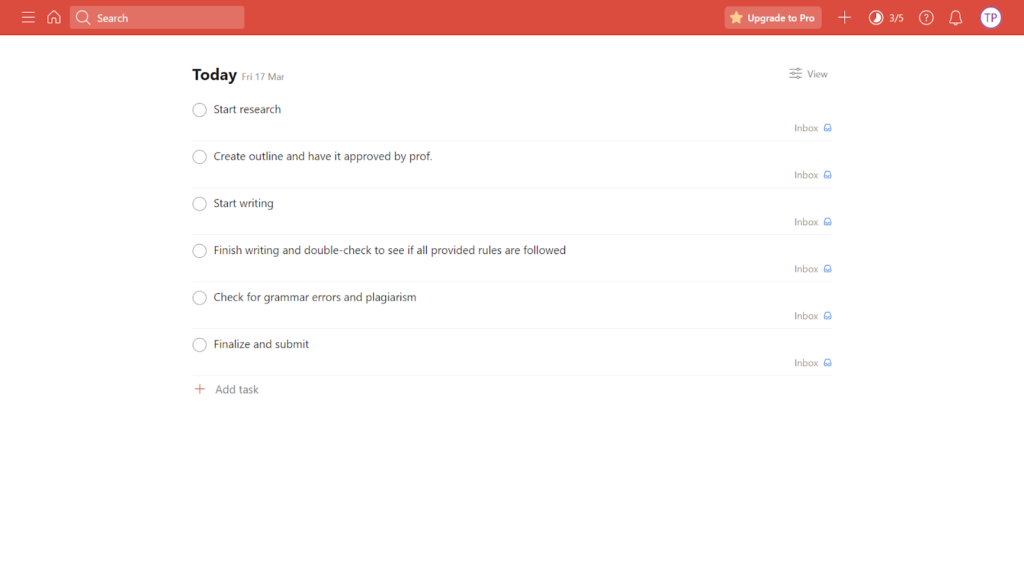 Of course, the example I have given above is very basic. Rather than creating a plan for only writing an essay, students can plan out their whole week, and even month, if needed. Here is what the former could look like: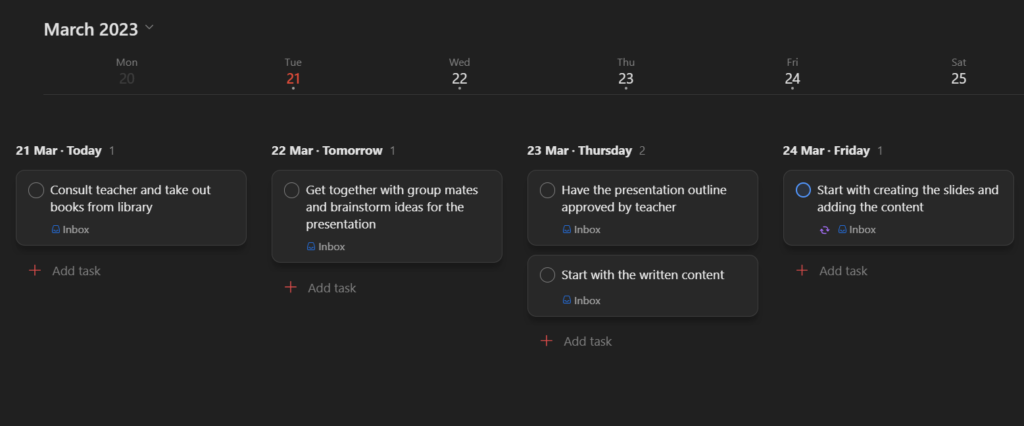 In the example above, the schedule is centered around a specific activity/project, namely, creating the presentation. But, instead of this, planning tools can also be used to create a recurring schedule, such as a weekly program that can be followed over and over again.
Now, I have discussed a lot about these types of tools and how they can help students and all. But before I wrap this point out, here are some tips that you can follow to make the most out of these tools.
First, make sure you use a good tool for the job. I will be listing some good ones in the section below.
Be sure to keep a balance between too many details and too many omissions. In other words, add reminders about tasks that are somewhat significant and major. Don't add reminders for tasks that are too basic. For example, don't add a reminder for "having lunch." In the same way, you have to be careful about not omitting too many important details.
Be sure to specify times for the specific tasks. If you just hinge on a task on a specific date without specifying the times, you could start procrastinating until the next day. This cycle could continue on and on, and you could start lagging behind on your tasks.
What are Some Good Online Planning Tools in 2023?
Calendly
Microsoft To Do
iStudiez Pro
Students have to deal with a lot of different documents during their day, be it books, notes, reports, and so on. By using file readers, students can easily manage such documents, read them when needed, and edit them if required.
To give you an example of how these types of tools can be helpful for the overall study experience, let's take the example of Adobe Acrobat. Mind you, I will discuss some other tools for this purpose later on, but for the purpose of explaining this whole section better, I am going to single out one tool.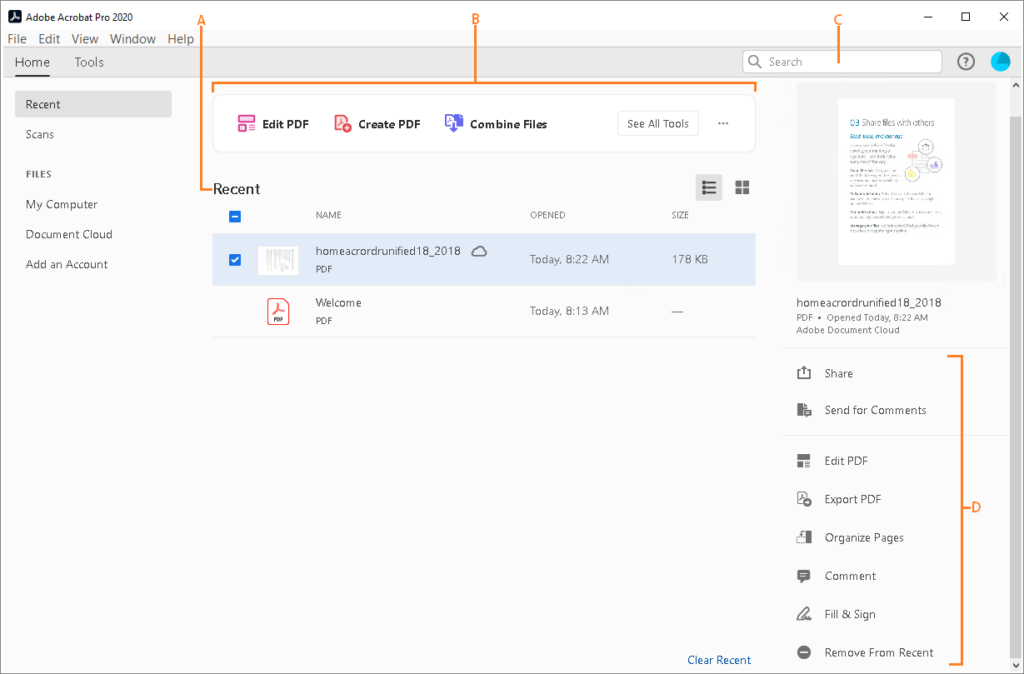 So, when you are using Adobe Acrobat, you can open and access all supported files on your device. There is a neat searching option that you can use to fetch the file you need without browsing through columns and columns of documents in your computer's or phone's file explorer.
This is, in the first instance, a highly useful feature for students since it can save them one of their most precious commodities — time. This feature plays a role in helping students manage their documents/notes.
Moving on, Adobe Acrobat also provides numerous options that you can use for editing files. As you can see in the image above, there are different options in the lower right corner, such as Edit PDF and Organize Pages. Using these features, students can sort out their documents and even add annotations where needed.
These tools provide students with the features they need to effectively retrieve their files, read them and add notes to them if necessary.
Before giving this point the wrap and moving on to the next one, let me tell you some tips on how you can use these types of apps to make your studies easier.
You can use PDF readers/editors to divide longer PDF files. This includes lecture notes and e-books, into easily readable/accessible files
You can use PDF readers to make the actual reading process easier and more comfortable. There are many features, such as text enlargement, dark mode, and the like, which can make the text easier to read
You can use them to make notes and annotations: These types of tools and apps can also be used to make notes and annotations on the PDF files so that you can remember and recall
What are Some Good PDF Readers that You Can Use in 2023?
EaseUS PDR Editor
Nitro PDF Pro
Adobe Acrobat
Text Editors — Word Processing and Presentation Software
One of the main tasks that students have to deal with on a daily basis is writing assignments. Assignments come in different forms, such as essays, reports, research papers, and so on.
Online tools can help students write different types of assignments easily. Word processing software and text editors usually come packed with different formatting features as well as styling options. These features/options can be used by students when they want to make bullets, create indents, make headings, etc.
Regarding text editors, the features they provide are somewhat basic, though enough for simple write-ups. If you're using a Windows PC, open the WordPad app, and you will see the type of limited functions it offers.

These functions can be fine if you are just looking to create a simple write-up. However, if you are writing something that requires detailed formatting and styling, you will have to use a tool/software that provides the relevant features. Here is an example, I do not have to go very far. I am just pasting a screenshot of MS Word, which is the tool I am using right now.

As compared to Word Pad, you can see the list of extensive features that are available in MS Word.
To sum it up, here is the list of things that word processors and text editors can help students with during assignment writing:
Setting the font style and size as per the provided guidelines
Setting the line spacing as well as the indents/margins
Creating an outline/table of contents
Numbering pages
Labeling footers and headers
Creating and inserting tables, graphs, and images
Creating and managing citations
Checking and removing spelling/grammar errors
And the list goes on.
Of course, when I talk about assignments, I can not miss writing about presentations. Like written assignments, students may also need to create presentations time and again during the course of their course.
For this, there are presentation tools like PowerPoint and Google Slides that you can use.
What are Some Good Word Processing and Presentation Softwares That You Can Use in 2023?
Microsoft 365 Suite
Google Docs
Google Slides
LibreOffice
Not only do students have to create assignments and presentations, but they also have to make sure that there are no grammar errors in there. Normally, finding and fixing grammar errors can require extensive proofreading and checking. But, with the help of grammar checkers, this process can be considerably eased up.
If students use the right tools for checking grammar in their work, they can get a two-fold benefit. They can remove the errors from their write-ups, and they can also learn about the logic behind those issues. For example, if I use Grammar Check (which is a popular grammar, we will see that each of the errors has been described briefly by the tool.)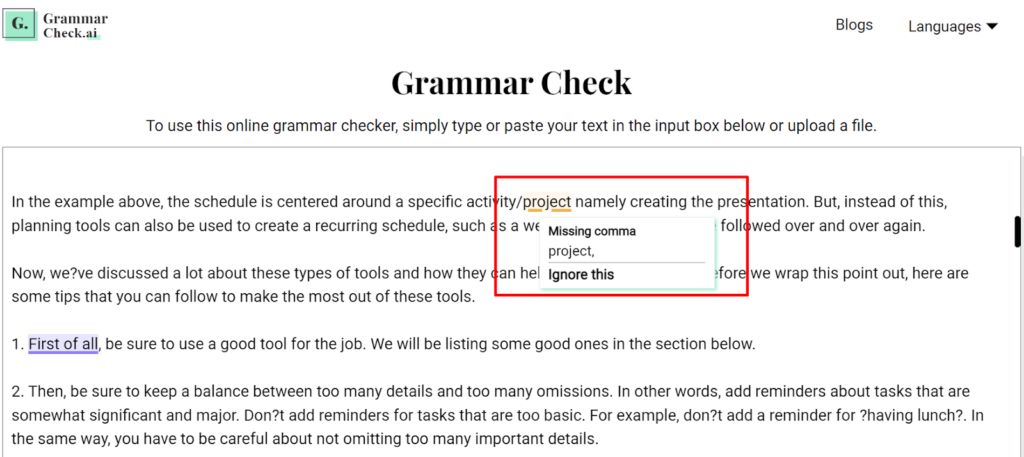 As you can see in the image above, after pointing out the errors, the tool also gave an explanation, i.e., "missing comma."
However, to get the most out of these tools, you must make sure you pick the right ones. Here are some things that you can look for to make sure that you do not go wrong with your choice.
The tool should be popular and well-known. You should pick one from the first three pages of Google's SERPs. You should also look for reviews on it to see how many people have used it and what they have to say about it.
The tool should have a transparent privacy policy. Since you are going to be uploading your content to it, you want to pick a tool that has a "no-data-usage" policy.
The tool should be free to use, at least to a great extent. While you can purchase paid plans if needed, it is better to pick a tool that does not require one.
What are Some Good Grammar Checkers That You Can Use in 2023?
Grammarly
Grammar checker by Writer
Grammar checker by Editpad
Distraction-Blocking Apps Can Help Students Stay Focused
Imagine you're researching a paper, and you suddenly see an ad on the side of the screen. You click on it and then start wasting time going through the website and whatnot.
To avoid situations like this, there are a lot of distraction-blocking apps that you can use. These apps can do different types of things, such as:
Blocking certain apps on your computer/phone from opening
Blocking ads on the websites that you visit
Blocking certain websites from opening at all
And the list goes on.
What are Some Good Distraction-Blocking Apps That You Can Use In 2023?
Cold Turkey Blocker
RescueTime
Freedom
What is the Importance of Educational Technology to Teachers?
Educational technology helps improve the quality of life of teachers as it makes their job easier and much less stressful while increasing efficiency at the same time.
Advancement in education technology improves communication between teachers and their students and also increases the effectiveness of their communication through the use of multi-media communication systems.
5 Benefits of Educational Technology
It enhances student interaction and engagement
It encourages inclusion
It increases productivity and creativity
It makes learning seamless
It encourages more collaboration
See the 17 Advantages and Disadvantages of Online Education to gain more insight into the benefits of educational technology.
Conclusion
Other than the ways listed, there are a lot of other uses that students can get out of online tools. But, for someone who is totally in the dark about online tools and what they do. The stuff mentioned above can be pretty useful.
I am Okpara Chibuike Blessius Francis, writer at Certificate Programs Online — A student of Cyber Security at the Federal University of Technology Owerri (FUTO). I love the Cyber World and I am a crypto enthusiast.
With many years of experience with online certifications as a student myself. I joined this organization to help students find the best online certificate programs and courses.
I am working to make it easier for students all over the world to easily find online courses, programs, certifications, and schools that suit their needs. Tasks like this took me a lot of time to accomplish, so I am dedicating my time to make it easier for others.
There are many certifications and courses online, so this organization will help students find the ones that are relevant to them.